Luxury fashion is no longer what it used to be; many high-end brands have forgotten their roots. Today, high-end fashion brands love coming up with gimmicky merchandise to modernize their image and fit into trends.
They listen to their customers, maybe a little too much, which is why they know how to commercialize merchandise. However, some of these brands don't realize how this action will make their brands appear; they forget creativity and embrace commercialism.
Only a few brands today are incorporating creativity in their designs; others want to give their customers what they want. Unfortunately, the general direction of consumers is not what a true luxury brand should be about.
As far as the consumers are concerned, spell out the brand name or slap its logo on a product and watch it trend. The merchandise sells, but now we can't keep up with the variety of fashion pieces these brands have on the market.
Which Luxury Brands Are Considered Tacky Now?
Many luxury brands have had to do "unhealthy" things to their brands to survive. Rather than reinvent themselves in the splendor of days, they choose to satisfy a large segment of nouveaux riches.
Then, they mix them up with street culture and hip-hop attire, completely revamping what they are about.
As a result, luxury brands now, especially men's brands, have gone from being haute couture to hip-hop couture worn by football players and rappers.
Below are some of the high-end fashion brands' products that can become tacky today:
D&G
The Dolce and Gabbana brand used to be known as a classy, true fashion brand in the late '90s, with baby tees spelling out D&G.
However, these t-shirts now feature more design and are hideously paired with floral skirts; they are considered a rip-off.
Dolce & Gabbana tees are now considered overpriced, but they still sell out despite that.
Gucci Tees
Gucci's logo t-shirts have everyone amazed and interested, but the merchandise becomes tacky when people pair them with other brands.
For example, wearing a Gucci logo tee and pairing it with a floral or printed skirt and Valentino rockstuds becomes tacky. 
YSL
YSL shoes are considered comfortable, but many will disagree; some may even say the brand needs to retire.
The heels don't present real fashion cognoscenti unless you're pairing them with skirts and floor-grazing pants that hide them well.
Louboutin Peeptoe Pumps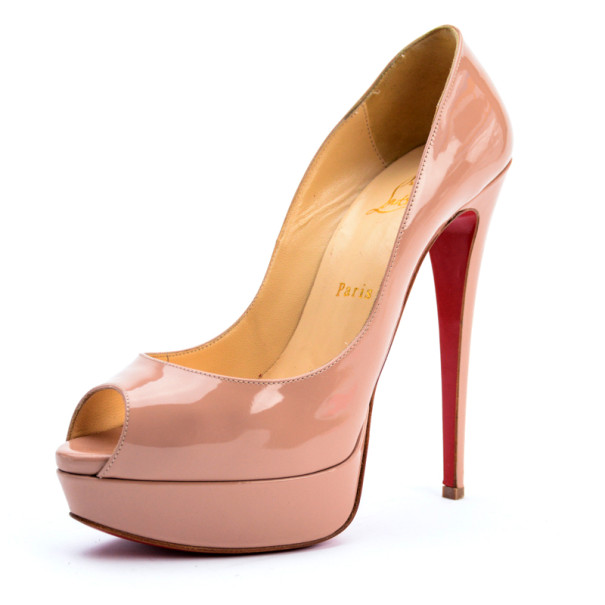 These shoes add height, but many people hate them; some even call them "hooker heels".
YSL Monogram Pumps
These are quite sleek and cute because of their pointy toes, but only if you pair them with the right dress.
Wearing these shoes with anything closely related to a designer logo or monogram presents tacky fashion.
Differentiating Quiet and Loud Luxury
There are different categories of fashion enthusiasts: those who love logo-centric brands and those who believe less is more. If you love logo-centric brands, you're a fan of loud luxury; if you're in the second category, you love quiet fashion.
However, regardless of which category of luxury fashion you love, it is a key profiling trick luxury brand marketers use on their audience.
Loud Luxury and quiet luxury are different in significant ways, including what they are associated with, among other things.
The products have highly visible brand markings that help people distinguish the brand in loud luxury. For example, Louis Vuitton is a loud luxury label with its instantly recognizable monogram print. You can find the print emblazoned on many bags, accessories, and clothing.
There's also the "double G," Gucci's iconic logo featured across a wide selection of its collections.
On the other hand, quiet luxury features products with subtle or no markings; quiet luxury brands are not centered on the logo. Brands in this category are more concerned with beauty, quality, and high-end craftsmanship than wealth and status.
For example, Hermes is known for understated luxury with thousands of products, but only a few can recognize them. For lovers of quiet luxury, they are ready to spend large sums of money; so far, it makes them look anonymously chic.
Is There a Growing Trend for Quiet Luxury?
Loud Luxury is still very popular, but quiet luxury products are steadily rising as the wealthiest looks in the world. They are transitioning from that to becoming more inconspicuous, showing their wealth and status in more subtle ways.
You can see the shift towards quiet luxury in established luxury markets like Italy, where they are more predominant.
The Row, for example, is an extremely successful quiet American Fashion brand with high-end products offering understated chic.
Also, Bottega Veneta is another good example of a quiet luxury fashion label. The Italian fashion house has gone to great lengths to achieve the status of quiet luxury; its logo only appears inside its accessories.
If luxury brand marketers truly want to reach their specific audience, they need to understand the nuances between these luxury categories. They should understand those who love loud or quiet luxury and why and then tailor their strategies to deliver results effectively.
Why Do People Love Loud Luxury?
Despite the tackiness of some luxury brands, there are still people who love and choose to wear them. If you check online for the most common fashion mistakes, many of them will involve big-logo fashion wears.
So, why do people still love wearing big logos on their bodies?
To Show Off: Those people want to show off that they can afford the said brand and are among the exclusive bunch.
To belong: Some others wear big logo luxury clothing because they want to belong to the social group of the wealthy. Different social groups have their clothing style and the kinds of brands they wear. For example, a loud luxury cloth does justice if someone wants to associate with a rapper or be accepted into the hip-hop community.
Conclusion
As cool and classy as some brands are, they often appear too loud or tacky to a set of people. These attires are great in themselves, but they come off as a fashion mistake when paired wrongly. So, which one are you: do you love "less is more," or do you prefer loud and obvious?