25-year-old Jimmy Choo is one of the most popular luxury shoe brands known for its expensive but high-quality stilettos. The brand is truly iconic – something its large fanbase appreciates and remains loyal to it for.
Jimmy Choo has left a mark on the fashion industry in ways only a few designer shoe brands have. It started with an eleven-year-old who learned cobbling from his father and formed a brand that took the world by storm.
Jimmy Choo shoes are incredibly worth it and an excellent investment if you can afford them. They are made from high-quality materials from trusted sources, ensuring their undeniable integrity.
If you're considering getting Jimmy Choo shoes or any other of the brand's products, you'll find this article beneficiary.
Are Jimmy Choo Shoes Worth the Hype?
Questions of whether a brand is worth the hype, among others, are legitimate when you're trying a new brand. The issue is knowing where to turn for answers concerning the reliability and quality of designer items.
For example, Jimmy Choo shoes are comfortable, which is a quality only a few designer footwear brands have. Most designer shoes are usually too tight or narrow or don't fit true to size.
Considering how much Jimmy Choo costs, it would be a true disappointment if they were not worth it. However, there are a few things to consider when deciding whether a brand is worth it. The first thing is how the shoes fit; high-quality shoes fit better, particularly when you get your size. Also, you want to consider the materials used in making the shoes; will they last longer, or will they be deconstructed?
You also want to consider the styling of the shoes and how you feel when you walk in them. As far as luxury designer shoe brands, Jimmy Choo has these characteristics locked in, so they are worth it.
The shoes feature incredible Italian craftsmanship with impressive attention to detail. Each piece is carefully handmade with high-quality materials to ensure they don't lose form over a short period.
Are Jimmy Choo Shoes True to Size?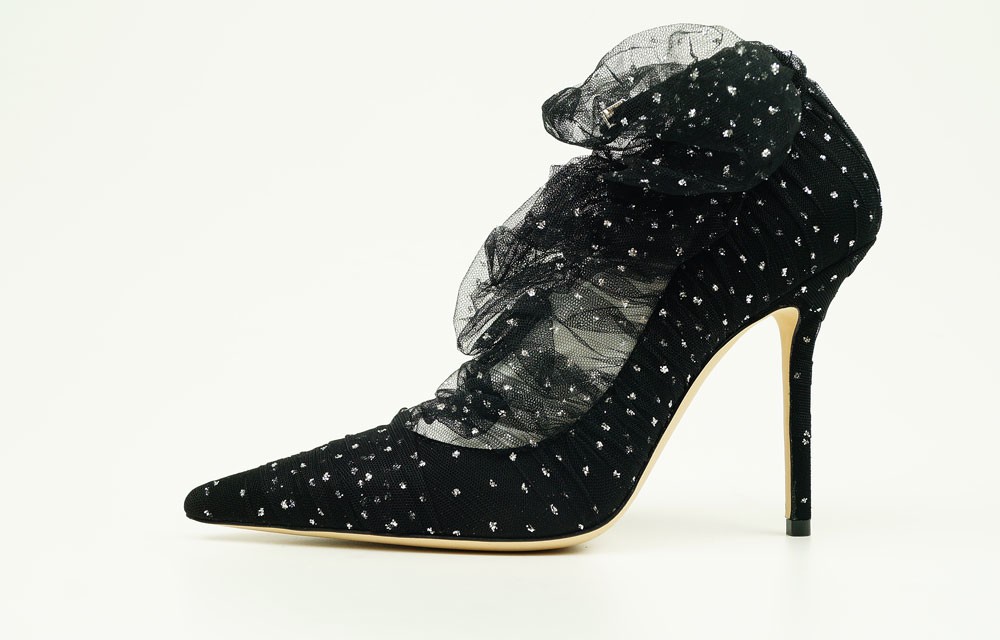 So far, so good; Jimmy Choo shoes are said to run true to size as they feature Italian sizing. You must be willing to pay the price if you want luxury, and Jimmy Choo shoes aren't cheap. Though not the most expensive set in the industry, they are still costly, ranging from $250 to $5,500.
If you're spending this much on designer shoes, it makes sense to want to know they fit just right.
Thankfully, Jimmy Choo isn't just a brand in name, and it isn't all too focused on wealth and status. From the comfortability of the shoes, you can see that the brand knows its customers' needs, and it gives them.
The shoes are sized according to Italian standards, with women's sizes from 34 to 45 and men's from 39 to 46. However, when buying, remember that pointed toes fit narrower than rounded toes; that'll affect your size choices.
If you're buying pointed-toe shoes, you may want to add half to one size to your original size. Regardless of the style you choose, you should probably compare the measurements with any similar shoe you already own.
Nevertheless, Jimmy Choo shoes are generally known to be comfortable; you won't need to break them in. Unlike most designer shoes, you can wear Jimmy Choos as soon as you buy them and wear them all day without getting blisters.
What Are Cool Jimmy Choo Shoes to Try?
Jimmy Choos are the coolest, with various options ranging from sandals to sneakers and boots. However, the brand offers a wide range of styles; you will likely find multiple styles that you love. If you're yet to decide which type you want, here are three exotic Jimmy Choo styles to consider.
Hawaii Sneakers
Jimmy Choo's Hawaii Sneakers are a must-have if you want both style and comfort in one package. These iconic pieces are crafted from premium-quality calf leather, featuring a clean and understated silhouette.
On the shoes are a variety of glamorous details, including star-perforated crostata, glitter, and pearls. They present the perfect opportunity to dress casually and still be stylish.
Romy Pumps
The Romy Pumps are part of the 24:7 capsule collection and some of the brand's most iconic designs – if not the most. The pumps feature pointy toes and a classy style that every woman needs.
The shoes are versatile; you can wear them with any outfit, casual or official. The Jimmy Choo Romy Pumps are available in several prints, colors, and three heights: 60mm, 85mm, and 100mm.
Love Pumps
Jimmy Choo Love Pumps features a timeless elegance and glamor even a fashion critic will appreciate.
With its sleek stiletto heel and pointy toes, these pumps come in different materials and colors with eye-catching glitter iterations.
Should You Invest in Designer Shoes?
People have high expectations of designer shoes because they believe they should be perfect. Truly, many of them try to make it perfect, but even the highest quality shoes have flaws.
For one, designer shoes are not magical, and you'll have issues with them as you will with non-designer heels.
So, yes, you should expect some problems like aching calves and hurting feet, even from high-quality shoes like Jimmy Choos.
However, the difference is that designer shoes feature superior craftsmanship, and they last longer than their non-designer counterparts.
Jimmy Choo shoes, for example, are some of the most comfortable on the market because of their craftsmanship and quality. So if you need high-quality shoes, go for designer products; if you only need shoes for work, you can buy non-designers.
As far as durability and quality go, designer shoes like Jimmy Choo's will always be the best option.
Conclusion
Whether or not Jimmy Choo is worth it depends on what needs you expect the brand to satisfy. Are you looking for quality, durability, style, and premium hands-on craftsmanship? Then, you should consider investing in Jimmy Choo because you get all these and more.
Jimmy Choos aren't only the most popular on the market; they are also the most comfortable and highly functional.