Jimmy Choo is one of the most popular luxury brands with the most sought-after luxury items. So if you're thinking about investing in Jimmy Choo, you're probably making a good choice – "probably" may change to "certainly" later.
The Jimmy Choo brand is a leading global luxury brand with a playfully daring spirit and an empowered sense of glamor. The brand's roots can be traced back to its owner, Jimmy Choo, who was based in the East End of London.
The brand's pieces feature a fashionable design, outstanding Italian craftsmanship, and, of course, a sexy cut. The brand is a favorite among celebrities; its shoes have graced galas, red carpet events, and countless Broadway shows.
But, the question is: are Jimmy Choo products of good quality, or are these celebrities only putting up a front?
Are Jimmy Choo Shoes Good Quality?
If you're familiar with Italian shoes, you know their exceptional quality; "made in Italy" is a big deal in the fashion world. Jimmy Choo shoes feature the fashion world's impressive Italian quality with which the fashion world has become familiar.
Jimmy Choo shoes are handmade; you can trace their origin to London, where the first set was manufactured. The shoes moved to Italy in the late '90s as the brand's popularity skyrocketed, although "Jimmy Choo London" still appeared on the shoes.
The Jimmy Choo brand has a reputation for honoring the Italian tradition of high-quality goods. Their products have been reported to last very long, which is obviously the result of the high-quality raw materials used in their production.
Jimmy Choo is a household name in the luxury shoe industry, particularly because of the stylishness of its items. The brand is majorly known for offering women's shoes alongside small leather goods, handbags, eyewear, men's shoes, and fragrance.
Jimmy Choo shoes aren't only expensive because of their luxury status; their quality plays a significant role in the prices. So, if you're looking for high-quality designer shoes you'll use for a long time, you can try Jimmy Choo.
Getting to Know Jimmy Choo
If you're considering buying a Jimmy Choo product, it is only fair that you know what you're getting yourself into. Jimmy Choo was founded by Jimmy Choo Yeang Keat, born in Malaysia in 1948 into a family of cobblers.
The brand is beloved by royalty and Hollywood celebrities alike; it is one of the biggest names in the luxury footwear world. Jimmy Choo is known for breaking boundaries and redefining the world's idea of understated but exquisite stilettos.
At a young age, Jimmy Choo showed a flair for design, creating his first pair of shoes when he was only eleven. He learned how to make shoes by hand from his father and later moved to the UK to study fashion. He created his first brand in the 1980s, Lucky Shoes, and launched the brand to instant success after graduating.
Two years after opening his first shop, Jimmy Choo was already on the radar of top fashion magazines in London.
The brand accumulated an eight-page feature in Vogue and gained attention at London Fashion Week. In a short while, the Jimmy Choo brand became synonymous with its streamlined silhouettes in minimalistic styling.
The luxury footwear brand has always been about creating high-quality luxury footwear with the best Italian craftsmanship. By the time the '90s were coming to an end, Jimmy Choo was already established as an "It" footwear brand.
How Much Are Jimmy Choo Shoes?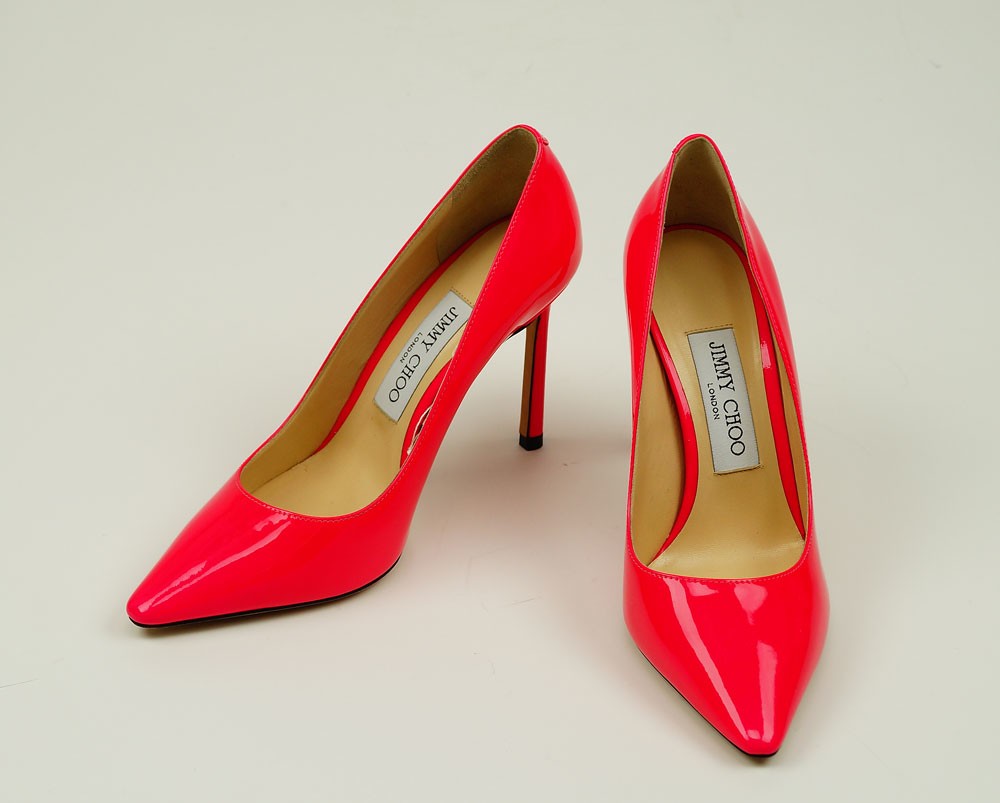 Jimmy Choo shoes come in different styles, and they are priced according to the styling. The level of detailing and craftsmanship that goes into the shoe also determines how much it'll cost.
However, a pair of Jimmy Choo shoes range in price from $400 to $1,500; consider them an investment. Being a luxury shoe brand, one can compare the prices of Jimmy Choo shoes with those of Christian Louboutin. 
Christian Louboutin is one of Jimmy Choo's major competitors, with their styles, quality, and prices going toe-to-toe. One of Jimmy Choo's most expensive pairs of shoes is crystal-covered heels, the popular Avril shoes. These are priced at $4,700 and feature the work of living art; you can wear this until you're tired.
If you have a big budget for designer shoes, you'll enjoy shopping for Jimmy Choo shoes.
The shoes feature high-quality leather, Jimmy Choo's most unique styles, and authentic, expert craftsmanship. Thankfully, if your budget is tight, you can still find affordable Jimmy Choo shoes around the $400 price point. Plus, Jimmy Choo regularly has sales where you can save at least 50% on seasonal designs throughout the year.
How to Authenticate an Original Jimmy Choo?
Jimmy Choo shoes are good-quality, but knockoffs on the market discredit the brand's original products. If you fall victim to these Jimmy Choo knockoffs, you won't see the authentic quality found in the original.
So, to ensure you're getting the authentic Jimmy Choo shoes, you can authenticate them using these methods:
If the shoe has a zipper, that's the first thing to look at; the original zipper is gold, rectangular, and engraved with "Jimmy Choo."
The original Jimmy Choo shoe box is light lilac in color and should have "London" in smaller fonts beneath the "Jimmy Choo" logo. The logo should be in silver iridescent and written on both shorter ends of the top lid. But this method alone can't help you authenticate real JC shoes because real boxes can accompany fake shoes.
Check the label on the box; the original box has a white label on one end with the shoe's detailed information. Also, check the details on the JC shoe box and ensure they match those on the shoe itself.
Original JC shoes' insoles have a "Jimmy Choo" logo in upper case with "London" written beneath in smaller fonts. Other minute details to check include: a subtle hook on the C, round and standup O's in Choo, and the H not crossed in the center.
Conclusion
Although it makes other products like handbags, the Jimmy Choo brand is known for its high-quality Italian-made shoes. So, if you've got the budget for the JC brand, you can buy its products; they are considered an investment.
However, you may want to authenticate the shoes using the methods we described to ensure you're getting the original. But, overall, Jimmy Choo is good-quality and a worthy investment you'll be glad you made for a long, long time.